Services
Foundation Training
Providing the basic education for you and your horse or mule. (See below.)
Problem Correction
Working to solve specific problems such as:

Confidence and trust issues
Trail obstacles and water crossing
Trailer loading
Poor manners
Fear of clippers
Pushy/flighty behavior
Biting, kicking, etc.

Riding/Handling Lessons
Personal Clinics
Will travel to your farm to dedicate a half or whole day (or more, if available) of one-on-one time with you and any number of your equines to assist with any issues, including training (both you and your animals), behavioral problems, or general health/care/educational concerns.
Small Group Clinics
Can perform small group one-day clinics at your suitable location for you and your guests.
Outdoor Photography
Including grooming/show clipping/preparation for horses.
Pricing: Please contact.
Training references available upon request.
---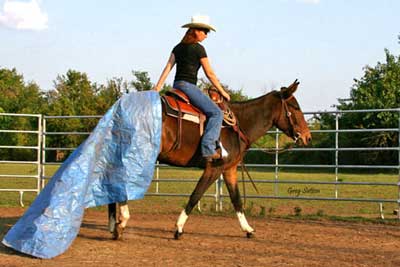 "Tarp training"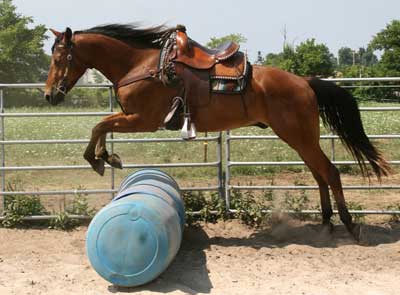 Jumping barrels
All horses and mules (regardless of age) at Restless Night take part in foundation training both from the ground and under saddle. They learn to stand tied patiently; to give to pressure from the front, back, and each side; to lead and drive over and around obstacles including bridges, tarps, and silly chickens and scruffy old goats. They learn to walk, trot, and canter softly in driving lines before they are ridden. Once this is complete, they are ready for saddling and riding. We'll spend some time in the round pen to make sure they've got the hang of left, right and whoa, and are relaxed and responsive to the one-rein stop. Then it's off to practice around the arena and pasture. The first month is spent learning to relax under saddle, "spook in place", and go forwards, backwards, and turn from subtle cues. When ready, we head out for the first trail ride out in the big wide world. A good friend graciously allows me to ride on his beautiful farm in the nearby Ozark Mountains where young colts can experience natural rocks, hills, streams, and large roaming bovines in all their glory - not to mention the sometimes exciting antics of wild turkey and deer.
You are asked to plan on spending some time here working with your animal before they are ready to be released. You are welcome to come out and watch your equine's training sessions and take notes or ask questions. For the first trail ride away from the farm I will ride your horse or mule while you ride another. This serves two purposes: I can handle any potential problems with your trainee while allowing you to enjoy getting to watch them demonstrate their new-found confidence and abilities. (I will be happy to provide you with a safe mount if you don't have one available.) Youngsters will be at their best when left for 60 to 120 days, but I am happy to do 30 day sessions if you prefer -- as long as you understand that even though they may cross bridges and traverse a variety of terrain after only 30 to 60 days, they really are only "green broke" at that point. It takes many hours of wet saddle blankets and trail experiences for those simple lessons to become the lifelong habits that make your horse or mule a safe and enjoyable ride for the rest of its life. A finished trail companion is a quality investment and should be treated as such.